You are here
Meet our 2020 EIC for the Daily, Lizzy Lawrence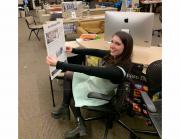 At the start of her freshman year, Lizzy Lawrence was on a mission to track down The Michigan Daily at Festifall. After a mass meeting and some terrifying trial stories, she joined the News section as a general reporter. The LSA student eventually became a community affairs and campus life reporter, working on breaking news and investigative pieces. In 2018, she broke a story with fellow reporter Julia Fanzeres exposing the University of Michigan's granting of tenure to a renowned voice professor even though it was aware of sexual misconduct accusations against him. 
Lizzy became Co-Managing News Editor in January 2019 and, now in her Junior year, took the helm as Editor in Chief. As EIC, she hopes to guide The Daily in building its digital presence by improving the website user experience and strengthening its social media strategy. She also wants to improve the student paper's relationships with the campus and Ann Arbor community by engaging them through campus events. Another item she's focusing on is making the Holly and John Madigan Newsroom as inclusive, fun and accessible a space as possible.
In the fall of 2020, she had a chance to visit the attic of the Stanford Lipsey Student Publications building one last time, shortly before the roof renovation project wrapped up, and she added the names of her staff leaders to those left behind by previous student leaders at the Daily. 
The summer after her freshman year, Lizzy worked on a podcast called "Stories From the Eastern West" in Warsaw, Poland for Polish culture media outlet culture.pl. Financial support from our Lubliner Career Enhancement Fund helped make this opportunity a reality for her. In the summer of 2019, she interned at USA Today on their breaking news desk. This past summer, she interned at Kaiser Health News in D.C.
Lizzy is from New York City, and majors in International Studies and Sociology. After graduation, she hopes to report on disparities in health and education.