You are here
Meet Grace Beal & Tess Crowley, Co-Managing Photo Editors 2022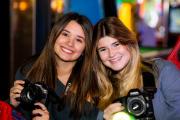 Hi! My name is Grace Beal (at left) -- I am the co-managing photo editor for 2022 and a sophomore at the University of Michigan. I intend to major in Public Policy and hope to attend law school. I am very interested in education policy, accomplishing social justice through policy and nonprofit work. I am currently a research assistant for the Detroit Public Schools Community District and am the founder and executive director of Layups for Lucy. Layups for Lucy is the annual fundraising event I host in memory of my late sister and to give back to Children's Hospital of Pittsburgh. We have donated over $180,000 and I have learned so much about myself and working with others through L4L.
I joined The Michigan Daily in the winter of 2021 and have since served as a staff photographer, sports writer, assistant photo editor, recruitment chair, and now managing photo editor. I have made some of my best friends, including my amazing counterpart Tess, and found a home at Michigan through the Daily and photostaff.
I am from New Castle, Pennsylvania, which is a very small town outside of Pittsburgh. Being from a small and close-knit town has shaped my desire to capture community and find a unique way to give to those who have given so much to me. I purchased a beginner camera as a sophomore in high school to photograph my fellow high school student-athletes and my love for capturing emotion and the human experience has flourished since then.
In addition to freelancing for the New Castle News, I photograph families, seniors, graduates, babies, athletes and community events for my business GP Photography. GP stands for my first and middle name, Grace Parker, and a loving nickname given to me by several hometown friends for my photography endeavors. I am an avid Canon fan and made the big step of upgrading from a Canon Rebel t6i to the Canon EOS r6 over the summer. I was persuaded to go mirrorless and am very happy I did.
Over the last few semesters, I have had a blast shooting sports, softball and basketball being my favorites, and news events, such as student reactions to Mark Schlissel being fired and just last week I got to photograph President Biden in Ohio. 
This summer I will be returning home to intern with a congressman or as a consulting intern in Pittsburgh. Although that is still up in the air, I am also scheduling an array of photo sessions and will be freelancing with the New Castle News again.
As a managing editor, I hope to give our staff the community and opportunities that I have found within the Daily. Our staff is so talented and push me everyday to be a better leader, photographer, and person.  To see Grace's photography, click here. 
---
Hi! I'm Tess Crowley, (at right) -- I am a sophomore at the University of Michigan, majoring in Communication and Media with a minor in Spanish, Language, Literature, and Culture. I am interested in pursuing photojournalism post-grad, and especially interested in working with scientists and professionals in the climate research field and photographing environmental issues. Next year, I'm excited to study abroad in Madrid, Spain, and after graduation I hope to travel and work in Spanish speaking countries as a photojournalist.  
I have been interested in photography since middle school, when I bought my first DSLR, albeit the lens wasn't detachable. I have since upgraded, and now love to photograph with my beloved Sigma 24-70 2.8. 
Fall of freshmen year, I joined the Michigan Daily and was excited to work with so many talented photographers on campus and have since found a family at 420 Maynard. I was a staff photographer, assistant photo editor, and now serve as the current co-managing photo editor. I enjoy mentoring and creating opportunities for photostaff; I hope to leave a positive impact on all of our staffers. I specifically enjoy working on projects where photostaff collaborates with other sections. Along with the Daily, I interned for Traverse Magazine and have my business Tess Crowley Photo where I specialize in graduation, family, event, and wedding photos. 
Growing up in Traverse City, Michigan, surrounded by water and plenty of dunes, hiking trails, and forests, naturally I love the outdoors and started with landscape photography until I became the photo editor on my high school's newspaper where I transitioned to photojournalism. I am passionate about the environment and want to continue weaving that passion into my photography. I enjoyed photographing a feature on the volunteers for the Huron River Watershed last spring. 
I also enjoy and have experience working with kids; I currently work as a program assistant with Community Action Network, a nonprofit that provides after school care in community housing around Ann Arbor. I am currently in the Socially Engaged Prison Photography class at the University where we put on photography workshops with kids at the Monroe Juvenile Detention Center. This summer I will be a multimedia intern at Stephanie Steinberg's Coaching Detroit Forward's Photography Camp.