You are here
Dyanna Bateman, Ensian EIC for 2021-22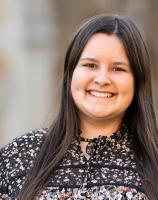 Dyanna Bateman, Editor-in-Chief of Michiganensian Yearbook CXXVI, is a third-year student from Flintstone, GA studying Communication and Media and Women's and Gender Studies within the College of Literature, Science and the Arts. After extensive involvement, including the title of Editor-in-Chief, on her high school yearbook staff, Dyanna knew she wanted to continue working on publications throughout her college career and applied to the Ensian right after she received her acceptance letter from U-M.
As a freshman, Dyanna joined the staff as a designer and contributed to many pages on student life and sports as well as creating the graphic concept selected by the 2020 staff and refined by EIC CXXIV, Anirudh Hirve, for the rebranding of the organization. During her second year on staff, Dyanna continued on the design staff as Associate Design Editor for the 125th anniversary book and re-launch of Recollection magazine.
As EIC, Dyanna has centered the importance of facilitating communication between staff members and increasing awareness of the Ensian in the campus community. With these goals, she has worked with the other members of the executive board to foster a publishing environment that has continued the trend of inclusive coverage relevant to the student community, created more opportunities for staff member engagement and increased recognition of student workload—specifically in a hybrid working environment. She also plans to make more meaningful connections with the Ensian alumni community and expand the reach of digital projects such as social media and Recollection Magazine.
Outside of the Ensian, Dyanna is also involved as an Executive Board member for LGBTQ+ Michigan, Executive Board member for Bilateral+, Graphic Design Editor for The Michigan Gayly: LGBTQ+ Issues, Recruitment Coordinator for the Spectrum Center Programming Board, member of Triota National Women's and Gender Studies Honor Society, and design assistant at UM's Office of University Development. Her hard work has been recognized with a Chris Armstrong Scholarship. She enjoys collaborating with all the members of the Ensian and looks forward to publishing more student-centered work. Next year, Dyanna will hold the title of EIC for her second year while continuing her education at Michigan through Rackham's Advanced Master's Degree program in Transcultural Studies.