You are here
Welcome Jasmin Lee, EIC for 2022!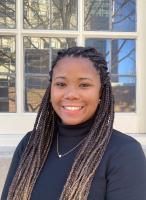 Jasmin Lee, Editor-in-Chief of The Michigan Daily for 2022, is a junior at the University of Michigan studying American Culture and Creative Writing with minors in Asian Studies and African American Studies. In high school, Jasmin interned at the Michigan Chronicle in Detroit and found her passion for journalism. She first heard of The Michigan Daily during her time at the Detroit Free Press as a Summer Apprentice in 2019. While working for the Freep, she met multiple Daily staffers at events and talked to them about joining The Michigan Daily, and later was awarded the inaugural Lipinski Journalism Scholarship, funded by Holly and John Madigan, which is our only fund to support incoming freshmen.
Jasmin joined the news section as soon as she could her freshman year and wrote her first three stories in one week, eager to be on staff. As a news reporter, Jasmin wrote for the campus life and administration beats, covering topics from Board of Regents meetings to sexual assault allegations to multicultural student events. Some of Jasmin's most notable stories were about Instagram likes, Bernie Sanders speaking on campus, Juneteenth, COVID-19 affecting the Black community in Washtenaw County and Angela Davis speaking on campus. She also co-authored a three-part mental health series in early 2020 that received the prestigious Stanford Lipsey Merit Award for Public Service Journalism.     
She also served as one of the 2020 Summer Managing News Editors during the height of the pandemic and oversaw coverage on public health, University updates and protests against police brutality across the state of Michigan. 
As a member of the Culture, Training and Inclusion section (formerly Access and Inclusion), Jasmin was part of planning the first journalistic sensitivity training. She worked on the CTI education team and helped plan onboarding training for new Daily staff members, and also wrote a few pieces for the Michigan in Color section in the summer of 2021.
As EIC, Jasmin hopes to increase The Daily outreach and accessibility with the campus community and promote a culture focused on mental health and wellbeing within The Daily. With growing changes in the journalism industry, Jasmin believes she can lead The Daily towards the future of change in journalism.