You are here
Meet Aaron Santilli, Daily Business Manager for 2022!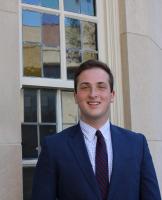 Aaron Santilli, Business Manager of The Michigan Daily for 2022, is a sophomore studying
Economics at Literature, Science, and the Arts. He joined The Michigan Daily
during his second semester of freshman year, initially seeking to gain
real-world business experience that was flexible with his schedule as a student.
During his first semester at The Daily, Aaron was a marketing specialist who worked on
several projects, including College Media Madness and
Baby Ads
. Over the summer, Aaron
Edition
. During the fall semester, Aaron was a Senior Account Executive again handling sales,
while also leading a team of four other students. Aaron has greatly enjoyed getting to know his
co-workers at The Daily, particularly seeing them in-person with the return to campus last
semester. He is excited to liaison more with Edit and increase collaboration between Business
and Edit teams.
As the Business Manager, Aaron hopes to guide The Daily through a period of transition
in light of a return to a semi-normal world. He specifically plans to analyze payroll and make
strides toward equity for all workers. He also hopes to analyze distribution locations and
circulation for the print papers to maximize The Daily's efficiency and revenue. Additionally, he
plans to look into establishing a team dedicated to ensuring future issues and decisions have a
strategy to research and make recommendations to improve The Daily.
Aaron was born and raised in Pittsburgh, PA. Outside of The Daily and school, Aaron
enjoys playing soccer, supporting all things Pittsburgh sports, and lifting weights. He looks
forward to what the new leadership team has to offer and all The Daily will accomplish in 2022.