You are here
Welcome Claire Hao, EIC for 2021!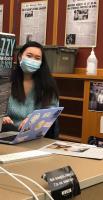 When asked how she came to The Michigan Daily, LSA junior and Troy, MI native Claire Hao usually responds in one of two ways: 1) on a whim, and 2) because it was the one organization she knew she wanted to join. Both were true, because despite coming from a STEM-heavy background with no previous journalism experience, Claire was drawn to The Daily for its fearless commitment to seeking out truth. The summer after her freshman year, Claire worked as a research assistant in a psychology lab and for The Daily as a summer senior news editor. By the end of that summer, she had quit the lab and signed up for her first beat, with serious intentions to pursue journalism as a career.
During her time on the news section, Claire has been a campus life beat reporter and news editor, writing two investigations into policy violations by University fraternities and sororities. She has also closely followed student activism on campus and has covered numerous demonstrations, using her experience to lead the creation of a protest coverage protocol for The Daily in summer 2020.
As news editor, she spearheaded efforts to strengthen understanding with campus organizations, and as one of the first members on the Access and Inclusion committee, she co-wrote The Daily's demographics report and helped create The Daily's first journalistic sensitivity workshop for all staffers.
Stepping into her new role as Editor-in-Chief, Claire is well aware that the media landscape is in flux. In her tenure, she hopes to see this student newsroom lead the way in reimagining the future of journalism as a whole.
Claire's vision is two-pronged. First, she will work to strengthen The Daily's digital presence — made all the more important by the COVID-19 pandemic — ultimately positioning The Daily as an organization comfortable delivering important information and perspectives through a variety of mediums. She is looking forward to utilizing The Daily's new website to meet this goal.
Second, she is incredibly excited to see Access & Inclusion designated as an official section. Throughout the year, she wants to expand its resources to conduct source audits, host community town halls, conduct regular staff workshops, build up robust professional development resources and invest in The Daily's mission as a community-oriented organization.
Claire is from Troy, Mich., and is a Philosophy, Politics and Economics major. She interned remotely for the Chicago Tribune on the metro desk last summer, spending the majority of her time covering education. She will intern for Bloomberg Law this coming summer.