You are here
Record-breaking honors for Student Publications at CMA's 2018-19 Pinnacle Awards!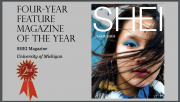 The 2018-2019 Pinnacles were awarded in Washington, D.C. Friday, Nov. 1st, at the annual College Media Association conference, and Student Publications brought home more honors than last year in the Four-Year Institutions category, despite a record number of entries!  SHEI took Second Place for Feature Magazine of the Year in the Organizational category. In the Individual category, The Michigan Daily's sports staff received three First Place honors including Best Sports Columnist Laney Byler; Best Game Story: Ethan Sears; and Best Sports Section, plus an Honorable Mention for Best Sports Multimedia Story while the Daily's design staff earned Third Place distinctions for Best Newspaper Front Page; Best Online Infographic; and an Honorable Mention for Best Newspaper Nameplate. Sammy Sussman took Third Place for  Best Investigative Story, and the Michiganensian Yearbook's cover earned Third Place honors. Congratulations to all of the winners!  
It was a record-breaking year for total entries, with 446 organizational entries from 186 colleges and universities, and over 3,400 total individual category entries (800 more than 2017-2018) from 246 colleges and universities.