You are here
Maya Goldman - EIC of the Daily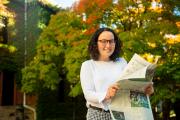 Even before she got to the University of Michigan, Maya Goldman knew she wanted to join The Michigan Daily - and three years later, she's our Editor in Chief for 2019! Though she didn't have any formal journalism experience before college, she'd always been interested and had heard from friends that the Daily would be a great place to find a smaller community on such a big campus. She went to the first mass meeting in September of her freshman year, and before long, she was spending more hours at the Daily than not.
Since then, Maya has worked as a news reporter on the academics and Ann Arbor beats, as an assistant news editor, and as as senior news editor advising the academics and research beats. She also worked on the inaugural podcast team as a producer and host.  
Maya became the Editor in Chief in January 2019 with the intention to grow the Daily's presence and brand on campus, continue to produce investigative and accountability journalism, and facilitate a community at the paper that is hospitable and accessible to people of all identities and from all corners of campus.
After a full semester, she was happy to note that the staff is making good progress on these goals. An updated version of the mobile app recently launched, and a system for push notifications will be implemented in September.
Collaborations with other student and community organizations have highlighted the Daily's presence on campus, and public events in the Holly & John Madigan Newsroom have helped increase transparency - events like debates for campus elections, and a music performance something like NPR's "Tiny Desk Concert."
An investigative team was created within the news section, and new protocols for covering breaking news have been put in place. The newsroom now uses Slack to facilitate easier communication, and the Access & Inclusion Chairs have planned and run multiple training and diversity workshops for editors.
This is the first year that the newspaper has been able to utilize the Lipinski Journalism Fund to increase professional development and bring more alumni and professional journalists into the newsroom, and Maya is excited to watch that begin to happen.
Maya hails from the metro-Detroit area — she grew up in Farmington Hills, Mich., and her family now lives in Bloomfield Hills. At the University, she is majoring in anthropology and minoring in writing. Outside of the Daily, Maya interned with Michigan Radio in Ann Arbor last summer and worked there through the fall semester as a newsroom intern, covering general assignment news stories. This summer, she's interning to the D.C. area, at Bloomberg BNA.