You are here
Meet Carly Ryan - co-Managing Editor of Michigan in Color section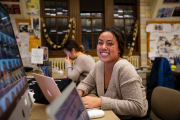 Carly Ryan
 is a junior at the University of Michigan studying in the Ford School of Public Policy, and she's been with 
The Michigan Daily
 since freshman year. She is currently a senior news editor. In 2019, she takes over as a co-managing editor of the 
Michigan in Color
section. Carly's work has been on the government beat, where she covered the recent 
midterm elections
. 
"The Michigan in Color section's goal is to uplift voices of people of color in the campus where they aren't usually given a platform or voice," Carly says. "These pieces aren't necessarily about their identity, but more about anything that people of color might be thinking about or interested in..."
Carly credits The Daily with helping secure her internship with the National Immigration Forum. "A lot of the work I had to do dealt with the press and just subtle things like...knowing how to talk with reporters," she says, "definitely strengthened my ability to operate there."
"As a senior news editor, I feel I've really strengthened my managerial skills and my people skills. I was a reporter for two years, but as a senior news editor, I really get to work one-on-one with people and I know way more about the aspects that go into making a paper at the end of the night."