You are here
Highlights from our 2018 Scholarship & Awards Celebration!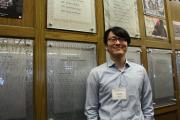 The Scholarship & Awards Celebration was a heart-warming day

to applaud student acheivements while celebrating all that our generous supporters do to help make it possible. Enjoy photos from the event on our website. 
The presentation was also captured on 
Facebook Live video
, which 
you can view here
.
We welcomed a special guest: John Madigan, a U-M alum (BBA '58 and MBA '59) and former publisher of The Chicago Tribune who sponsored The Holly and John Madigan Newsroom, the central hub of The Michigan Daily named in his and his wife's honor. His family also sponsors the Madigan Scholarship Fund at Student Publications, which supports almost one-third of all of our work-study students. 
Board Chair and our emcee for the day, Neil Chase, introduced some of the stories of legendary alumni whose names and passion for their work at Student Publications live on in merit awards and need-based scholarships in their honor, including the newest: 
The Rick Freeman Memorial Merit Award.
Established this fall by Rick's wife Aino Wheler, and two former
TMD
colleagues, Jennifer Yachnin and Jon Schwartz, in memory of a 
Daily
 sports writer & managing editor who passed away in August, this award recognizes member of the Daily staff "who can demonstrate an enthusiasm for news-gathering, friendship or life in general." The inaugural award-winner is 
Alexa St. John, the 2018 editor-in-chief
. Congratulations, Alexa!
In all, $95,000 was awarded to 33 scholarship and merit award winners, and 15 work-study students
. For more spotlights on our award-winning students, see below or 
visit us on the web
, 
Twitter
, or 
Facebook
!
We can't do this important work without you, so thank you! If you would like to join our supporters, honor an alum, or add to your gift, please go online and contribute today. Help hard-working, deserving students have a chance to contribute to our publications. There is no better way to prepare for a successful future, as so many of you know first-hand.
OTHER MERIT AWARD-WINNERS FOR 2018: 
The prestigious Stanford Lipsey Journalism Awards are sponsored by a late alumni photographer of The Michigan Dail and the Michiganensian Yearbook, and his wife Judi. In addition, an endowment fund Stan and Judi created over a decade ago was able to award approximately ten scholarships this year. 
The Stanford Lipsey Journalism Award for Investigative Reporting goes to RIYAH BASHA, Co-Managing News Editor, for 
The Stanford Lipsey Journalism Award for Public Service Reporting goes to NISA KHAN and JENNIFER MEER, MiC Senior Editor and Deputy Statement Editor respectively, for
The Stanford Lipsey Journalism Award for Photographic or Multimedia Storytelling goes to BOB LESSER and JORDAN WOLFF, on the web team, for their work on The Michigan Daily app (iOS) as well as the popular 

"Grade Guide." 
The Michigan Daily Business Person of the Year Award was created and funded by former Daily Business Manager Kirby Voigtman, who also sponsored the naming of the Voigtman Family Conference Room.
The Michigan Daily Business Person of the Year Award goes to ABBY AUSTIN, a junior studying Business who worked as a Daily Business staff Development Intern and recruiter.

The SHEI Outstanding Service Award was presented to MACKENZIE KING, a junior Art & Design major who served as the Digital Photo Editor of SHEI, and next year will be their Print Photo Editor.

The Michiganensian Outstanding Staff Member of the Year Award goes to CLAIRE BARTOSIC, a senior double majoring in Art History & Anthropology, was the Ensian Editor-in-Chief. 

The Kavi Shehkar Pandey Arts Writer Scholarship was earned by DAYTON HARE, a junior Music Composition & English Lit major who is Managing Arts Editor of the Daily. He also won a Michigan Daily Honors Scholarship, funded by Daily alum Sara Fitzgerald, who marshalls the Alumni Committee when they are called in to action.

The Nancy Bylan Bratman Copy Editing Award goes to FINN STORER, a junior in Public Policy who is the Daily copy chief for 2018. The award was established in memory of Nancy, a reporter and Associate Editor from 1948-51, and it recognizes a staff member who has exhibitied a high level of attention to detail and grammatical precision. 

The Brentlinger Award for Business or Editorial Writing was earned by JASON ROWLAND, for the second year in a row! Jason is a senior, studying Organizational Studies with a minor in Writing. He is our Michigan in Color section Co-Managing Editor. 

The Ray O'Hara Award for Sports Writing goes to ORION SANG, a senior of Public Policy who served as Daily Co-Managing Sports Editor this year. Ray O'Hara was a Daily sports staffer, and a friend of Alan Broad, who currently serves on the Board of Student Publications and created this fund in Ray's memory.

The Naweed Sikora Award -- established in memory of a passionate sports writer by his Managing Sports Editor, Brady McCollough -- goes to LUCAS MAIMAN, a junior of Public Policy & English who served as Daily Co-Managing Sports Editor this year.