You are here
Meet Alexa St. John - EIC 2018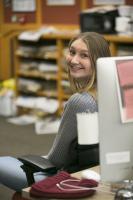 "I went into this role wanting to make a positive difference in three areas -- digital media, diversity and business," says Alexa St. John, the Daily's current editor-in-chief, who is a junior studying Communications and minoring in the Program in the Environment at UM. "Now, almost halfway into my tenure, I can say I've made progress to transform the environment of The Michigan Daily to be more conducive to a digital shift, positive and inclusive of an internal climate and intentionality in reporting, and innovative when it comes to news media and monetization."
By doing so, Alexa notes, "I've helped The Daily make an impact at the University of Michigan, giving back to those who helped me get to where I am, presenting our student newspaper as an avenue for all stories on campus—not just the loudest ones—and showing that our work, and the work of the news media as a whole does matter.
"In terms of inclusion, I've dedicated myself and my college career to the pursuit of truth and comprehensive storytelling through my work at The Michigan Daily, and I've also seen the significance of diversifying reporters, talent and skill sets. I made it a priority to establish a specific beat last year, plus an accompanying series of training sessions, around learning the necessity to co-exist in a diverse and equitable environment. Our beat, "Community Affairs," takes special care to dive deeper into issues that affect members of our University community, which been addressed before. Without diversity in terms of race, ethnicity, gender, class, sexual orientation, geographic background and more, there will always be narratives and stories of underrepresented and marginalized communities that are inadequately treated, and thus fosters a mistrust for the news media. I've helped get the photo section and, podcast section, new equipment to expand their staff and quality of content (until this year, our podcast team has gone to North Campus to tape their shows). We've started a partnership with Daily alum Roger Rapoport for our news section's coverage of the Larry Nassar trial. Thanks to support from our Daily Program Fund, we sent the Michigan in Color editors to Washington, D.C. for a trip over spring break to explore the history of people of color in our nation's capital.
"Moving forward, I hope to further explore unique avenues online for monetization and increased digitization. But these things aren't going to be my individual successes; they will be the successes of The Michigan Daily as a whole, and I am looking forward to continuing my work with such a talented group of managing editors throughout the next year and beyond."
She joined The Daily during her freshman year and quickly advanced to a research beat reporter and assistant news editor, writing about biotech, social science research and drug policy. "Ideally, I am interested in covering health care and innovations in medicine in the future. But, I enjoyed a lot of my work with breaking news all over campus, as well. I also spent last year as Managing News Editor, and have worked on recruitment and spearheaded our special bicentennial issue last September. " Last summer, Alexa enjoyed an internship at Local 4/WDIV, and this summer she'll work as an editorial intern at Automotive News.  
We're proud of her work at the helm of The Michigan Daily, and can't wait to see what she tackles during her final semester as EIC next fall! Make plans to meet Alexa and many of her team members at our upcoming Tailgate Party here on Saturday, Sept. 22nd!