Apply to be on the Board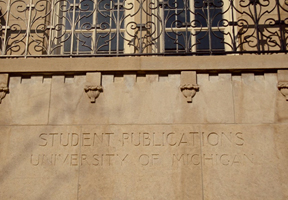 Application for Membership - Updates to this page will be made in January, 2024
Persons interested in serving as a member of the University of Michigan Board for Student Publications are cordially invited to apply for nomination. 
General Information about the Board: The University of Michigan Board for Student Publications is responsible for the publications edited and managed by the students at the University of Michigan, Ann Arbor, including The Michigan Daily, the Michiganensian yearbook, the Gargoyle humor magazine and SHEI magazine. The Board's primary duty is to oversee the financial stability of the publications. Recently the Board has been responsible for raising funds to develop scholarships for worthy publication staff members and create opportunities for staff members wishing to pursue careers in journalism. The Board has nine members, each serving a three-year term. Terms are staggered so that three members are chosen each year. At least four Board members are selected from the alumni of Student Publications, and at least three members are selected from the University community, which includes students, faculty, and staff. The Board selects nominees who are then appointed by the President of the University. Members are expected to:
Attend all monthly meetings. The Board holds five meetings annually, typically Monday nights from 5 to 8 p.m., two in the fall and three in winter term with the possibility of a retreat for a portion of a day in spring or summer.
Prepare for each Board and committee meeting and maintain an excellent attendance record.
Participate fully and frankly in Board discussions, think, speak and act independently, be willing to raise tough questions in a manner that encourages open discussion.
Establish an effective, independent and respected presence on the Board and a collegial relationship with other members.
Participate on committees and become knowledgeable about the duties, purpose and goals of each committee.
Become knowledgeable about our publications and the markets they operate in.
Maintain a current understanding of the business environments in which we operate.
Support the Mission Statement of Student Publications and adhere to provisions contained in the bylaws.
Provide support for and participate in special events and programs.
Make a personally significant gift to the Office of Student Publications annually.
Implement philanthropy strategies through personal and professional contacts and influence with others whenever possible.
Maintain confidentiality relating to matters discussed during all meetings.
Qualifications: While competence in and commitment to the editorial and/or business principles of U-M Student Publications and experience and expertise in publications are valuable for Board membership, the Board exercises no control over the editorial content of the publications. Because the Board is committed to realizing diversity's benefits for itself and for the publications it oversees, the Board is particularly interested in recruiting members from underrepresented groups and who have experience and expertise in journalism, business, law, finance or development.
How to Apply: Please submit a résumé that summarizes your background and experience. Publication alumni and members of the University community are asked to indicate their connection to the University of Michigan and, if applicable, to Student Publications. Applicants from the community-at-large are asked to describe relevant journalistic or business affiliations. Please include a phone number and email address where you can be reached during the day and a current mailing address. In addition, in one paragraph, please explain why you are interested in the University of Michigan and Student Publications and why you wish to serve on the Board. Please send the above materials to:
Kathy Ciesinski, General Manager, University of Michigan Board for Student Publications 420 Maynard Street, Ann Arbor, Michigan 48109-1327 or email them to kciesins@umich.edu
Deadline for applications for consideration for fiscal year 2025 is yet to be determined.
Nondiscrimination Policy Statement
The University of Michigan, as an equal opportunity/affirmative action employer, complies with all applicable federal and state laws regarding nondiscrimination and affirmative action. The University of Michigan is committed to a policy of equal opportunity for all persons and does not discriminate on the basis of race, color, national origin, age, marital status, sex, sexual orientation, gender identity, gender expression, disability, religion, height, weight, or veteran status in employment, educational programs and activities, and admissions.
Inquiries or complaints may be addressed to the Senior Director for Institutional Equity and Title IX/Section 504/ADA Coordinator, Office for Institutional Equity, 2072 Administrative Services Building, Ann Arbor, Michigan 48109-1432, (734) 763-0235, TTY (734) 647-1388. For other University of Michigan information call (734) 764-1817.